Reading
Reading Ambition:
Reading is at the heart of the curriculum at Preston Hedge's.
Our aspiration is for every child to be able to read fluently and enjoy reading.
From the very outset, we place huge emphasis on ensuring every child masters the early reading skills and are able to decode fluently through the systematic teaching of synthetic phonics.
By providing an exceptional breadth of Reading experiences and opportunities we enable our children to explore a wealth of different books and develop a love for Reading.
Reading Implementation:
In the Early Years Phonics is introduced to the children from the outset of their time in Reception, when the team feel it is their appropriate for their cohort. Phonics is delivered through whole class sessions, enabling all children to have exposure to the sounds. Any children who need additional phonics have this through catch up intervention. We recognise that best practice is interactive and is set at a pace that works for the children .
We use Essential Letters & Sounds as our DfE accredited phonics programme. In term 1 of Reception we offer a workshop for Parents' to support them with Phonics & reading at home.
Our school also has a series of Phonics Booklets to help our parents. They are split into Phase 2-5 and can be found below:
Phonics Letters and Sounds Phase 2
Phonics Letters and Sounds Phase 3
Phonics Letters and Sounds Phase 4
Phonics Letters and Sounds Phase 5
Independent Reading books support children at an individual level and are carefully chosen by teachers to aid and challenge our pupils. We use a variety of different materials and stimulus to enable our children to develop a love of reading. Our independent reading stage books are from the Oxford Tree Reading Scheme, and provide pupils with opportunities to engage with both fiction, poetry and non-fiction materials. In addition to independent reading, and from the end of the Early Years, all pupils have the opportunity to work in small groups with a member of staff to participate in Guided Reading. This provides pupils with further opportunities to explore challenging texts, discussing their themes to deepen their understanding.
Please find below the links to supporting your child when reading at home:
Supporting your child with reading at home (KS1)
Supporting your child with reading at home (KS2)
Class Readers are studied by our children in KS1 & KS2. These books enable our children to have an end of day read, and the books are often utilised in English sessions, enabling the children to use the context of the book to write in different styles and for differing audiences.
In Year R our children have two or three English based mornings a week (alternating with Maths).  In Years 1-6, all our children have English lessons daily. 
Throughout Years 1-6, we follow the English sequence of Reading into Writing. As a school we recognise that reading is fundamental to the writing process, as children can only write successfully if they have a full understanding of the features of specific genres and therefore explore texts from a variety of genres.
Comprehension sessions are utilised in  Years 2-6 every so often to enable pupils to use and apply the reading skills that they have covered in analysis and other sessions.
The little things that make Reading extra special at Preston Hedge's:
Our Red Phone Box Book Swap
For all members of our school community to access at anytime they see fit. Three times a year we have a big book swap in the hall.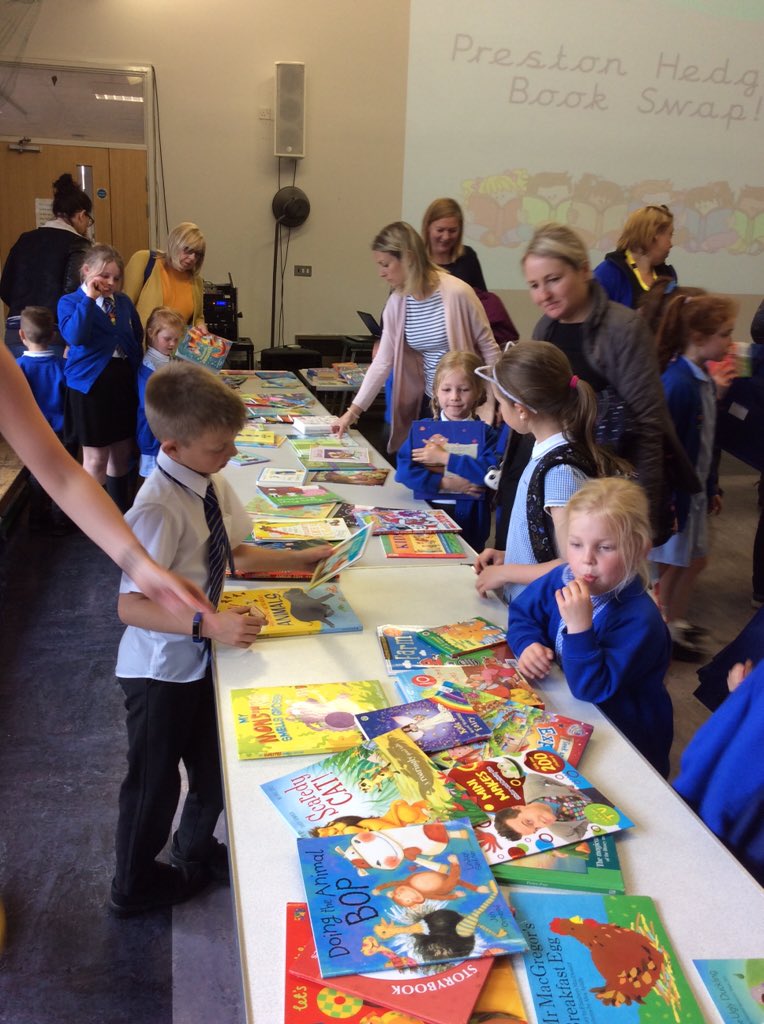 Our Red London Library Bus:
Open to families on a Monday-Wednesday from 2.45pm to 3.15pm and accessed weekly by our children:
Our Red Paradise: Where our Year 1 and 2 children choose their books!
The importance of Reading for pleasure Michael Ronsen:
Reading Impact:
Our approach leads to happy, well-rounded children, who through the exceptional experiences and opportunities offered understand the importance of and enjoy Reading.
Our outcomes for Reading are as follows:
Key stage 2 attainment of the high standard (110+) in reading (43%) was significantly above national and in the highest 20% of all schools in 2019 as well as in 2018.
The three-year average reading attainment score (108.2) was in the highest 20%. 
Key stage 1 attainment of the expected standard in reading (88%) was significantly above national and in the highest 20% of all schools in 2019 as well as in 2018 and 2017.
The proportion of pupils who met the expected standard (32+) in phonics in Year 1 (95%) was significantly above national and in the highest 20% of all schools in 2019 as well as 2018 and 2017.
Early years foundation stage attainment of the expected standard in the reading early learning goal (88%) was significantly above national in 2019